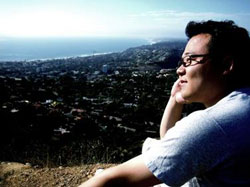 " .. Sung Hong has written a wonderful string quartet that mixes the sad warmth of barber with darker shades of Shostakovich. It culminates in a bitterly brilliant, propulsive finale ...(from The New Yorker, Alex Ross)"
Sung J. Hong born in Seoul, Korea, studied music in Paris and Los Angeles. He is now a bachelor's degree candidate at Manhattan School of Music. He has studied composition with Hojun Lee, Giampaolo Bracali, and he is now studying with Richard Danelpour.
His music has been performed in both Los Angeles and New York with various players and ensembles such as the Claremont Ensemble, the Manhattan Composers' Orchestra, Manhattan Chamber Ensemble, and Virtuoso Artists.
His recent awards have included the Pasadena Arts council Composition Award, the 2001/2002 OMC scholarships, and the Claremont Prize at Manhattan School of Music.
" Bell Flower" for piano solo. This piano piece is based on a theme from a Korean folk tune "Bell Flower" or "Doraji". The piece also includes rhythms from Korean "PungMul Nori". This piece attempts a musical recollection to make Korean folk tune and rhythm materials into a piano music.