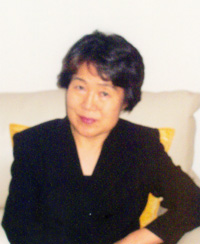 Soonmee Kahng is a professor at College of Music, the Sungshin Women's University at Seoul, Korea.
She received her BM at the Ewha Women's University, MM at the Manhattan School of Music, and PhD at the Michigan State University.
She composed "Arirang Fantasy for Violin solo", one of the required pieces for the 2004 Sejong Music Competition.
"Petit Suite for Cello Solo:
(1) The Ring around the moon (Dalmuri),
(2) Ut-mori game,
(3) The Yearning (Dong Gyung),
(4) Dal ah, dal ah"
Korean folk tune "Dal ah, dal ah" is used in this music.
("Dal ah" means a calling the moon: Dal: the moon)
A beautiful ring around the moon is described by employing slow tempo and double stops with the tune in the first movement.
In the second movement, the Ut-mori jang-dan is used with the fragments of the tune.
(Ut-mori jang-dan which is one of typical Korean rhythmic patterns. The formation of the rhythmic figure is a consistent 10 beats. The player strikes the rim of a drum or changgu at the accented eighth beat regularly in this rhythmic pattern.)

Eastern modes and rhythmic patterns are used to represent the yearning for the moonlight voyage somewhat abstractly in the third movement.
In the fourth movement the tune, "Dal ah, dal ah" is repeated with its melodic rhythmic variations.