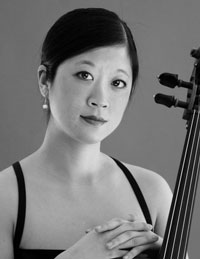 SARAH KOO, Cellist
"…I was more than impressed. From the opening notes, I rejoiced… she presented us with a new interpretation, completely and brilliantly realized."
-Gerald Carpenter, The Santa Barbara Independent, July 2005
Cellist Sarah Koo is known not only for her solo and chamber performances, but also as an avid educator and outreach advocate. Ms. Koo recently graduated with her Master and Bachelor of Music degrees from The Juilliard School where she was the sole recipient of the prestigious William Schumann Award for outstanding achievements in music, academics, and leadership. Ms. Koo made her 2000 New York debut in a solo recital at Carnegie's Weill Recital Hall as the youngest winner of the Artists International Competition.
Ms. Koo has most recently been appointed as a cellist in the Phoenix Symphony. Previously she was touring Italy and Europe with the Filarmonica Arturo Toscanini under the direction of Maestro Lorin Maazel. Ms. Koo is also a teaching artist with the New York Philharmonic and brings music education to the public schools of New York.
Recently, Ms. Koo appeared in the "Robb Report" magazine and a cover picture and story in the "Residential Systems" magazine for her interests in bringing classical music back to the home as a primary means of entertainment. Her avid desire to increase classical music interest has led Ms. Koo to become involved in many outreach and educational outreach organizations. Her involvement with the Community Service Fellowship at Juilliard, bringing performances to confined groups of people (e.g. nursing homes, cancer wards, etc.), has allowed her to encourage the genesis of similar programs, by proposing ideas to different organizations throughout the United States.
As a soloist, Ms. Koo was already showing her talent at a young age, with her 1995 Concerto debut performance of Boccherini's Concerto in B-flat Major in Chicago, Illinois. She had more Concerto solo performances with her 1996 performance of the Saint-Saens Cello Concerto No. 1, and her 1997 performance of Shostakovich's Concerto No. 1. At the age of 18, Sarah was admitted as the youngest participant ever to the Pacific Music Festival in Japan and played in the Festival's Orchestra as the Assistant Principal Cellist. Ms. Koo, an avid chamber musician, has been featured numerous times in Lincoln Center's Alice Tully Hall and Avery Fischer Hall. Chamber studies have been with Gil Shaham, Joseph Kalichstein, Peter Salaff, Jerome Lowenthal, and Jonathan Feldman. Solo studies have been primarily with Gilda Barston, Richard Hirschl, Darrett Adkins, and Ardyth Alton.