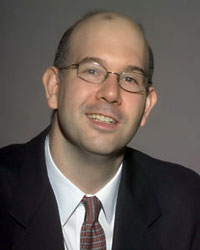 MATTHEW HAGLE, Piano
Pianist Matthew Hagle lives and works in the Chicago area, having performed at the Ravinia Festival¹s Martin Theater, Symphony Center, the Chicago Cultural Center, and live from radio station WFMT, among other venues. He has performed in England, Australia, and Japan, as well as throughout the United States. His recent solo performances have explored the often neglected masterpieces of the 20th-century piano repertoire and connections between newer and older music, including pieces of Copland, Carter, Ives, Schönberg, Messaien, Ligeti, and Takemitsu. He also performs regularly with violinist Rachel Barton Pine, with members of the Chicago Symphony, and as a piano duo with his wife Mio.

Clavier Magazine has praised the ³rare clarity and sweetness² of his playing, which has been described both by Piano and Keyboard and by the New Haven Register as ³outstanding.² The Charleston Post and Courier commented on his ³unusual sensitivity², and the Springfield (MA.) Republican remarked that he ³played with unaffected brilliance and profound understanding². As one of 36 pianists in the world chosen to compete in the 2000 Sydney International Piano Competition, he received favorable commentary on the adventurousness of his programming from pianist Michael Kieran Harvey, who covered the competition on Australian national radio.

His unusually large repertoire and ability to learn unfamiliar works quickly have made Mr. Hagle a valued collaborator with many artists. Since 1999, he has been principal collaborator to violinist Rachel Barton Pine. Performances with her have included violin sonatas by Beethoven, Mozart, Prokofiev, Debussy, Ravel, Strauss, and Bartok, as well as 20th-Century music, jazz-influenced compositions, and pieces by women composers and composers from minority or non-Western cultures. Recently, they performed all of Beethoven¹s music for violin and piano live on radio station WFMT in Chicago, in a series of three weekly concerts. Other recent appearances were at the United States Supreme Court, the National Gallery of Art and on NPR¹s ³Performance Today² and Minnesota Public Radio¹s ³St. Paul Sunday Morning², both of which were heard all over the country.

Recent chamber music performances have included a turn as a harpsichordist, playing Bach with members of the Chicago Symphony at Symphony Center, and a venture into the avant-garde techniques of composer George Crumb at the Music Institute of Chicago. Mr. Hagle also has played Schubert¹s Trout Quintet at Symphony Center with musicians from the Civic Orchestra of Chicago, and performed with Chicago Symphony musicians on ³Live from WFMT.² Mr. Hagle is a member of Chicago Pro Musica, a group of CSO musicians which performs at venues in Chicago and and across the country. Speaking of a recent performance at the University of Louisville, the reviewer for the Louisville Courier-Journal praised Mr. Hagle¹s ³incisive, keenly pedaled contributions².

A dedicated teacher of piano, chamber music, music theory, and composition, Mr. Hagle currently is on the faculty of the Music Institute of Chicago, where his students in piano and composition have won prizes in local and national competitions. He also has taught at Elmhurst College, the University of Notre Dame in South Bend, Indiana, and at the International Institute for Young Musicians at the Universities of Kansas and California at Santa Barbara. In addition to teaching composition, Mr. Hagle has composed pieces for solo flute and piano that have been performed in Germany and Japan. He speaks comfortably about diverse musical subjects, whether on Chopin¹s connection with 20th-century music, on composers¹ depictions of nature in piano music, in a series of lecture-recitals about American music, or discussing the music of Schumann at the Newberry Library¹s ³Colloquia² series.

Matthew Hagle is a graduate of the Peabody Conservatory (B.M.) and of Yale University (M.M., M.M.A., D.M.A), receiving faculty prizes in piano, accompanying, and music theory. His teachers have been Claude Frank, Robert Weirich, Donald Currier and Maria Curcio Diamand. He has also received a Fulbright Grant to study piano privately in London.