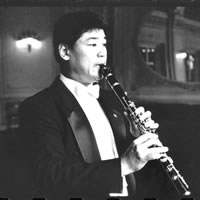 John Bruce Yeh The son of music-loving scientists in Los Angeles, John Bruce Yeh defines himself as a musical explorer. He pursued pre-medical studies at UCLA, where he won the Frank Sinatra Musical Performance Award and performed as Principal Clarinetist of the American Youth Symphony under Mehli Mehta. He entered the Juilliard School of Music in 1975 and also studied at Aspen, Marlboro, and Tanglewood.
In 1977, when Yeh was 19, Sir Georg Solti invited him to join the Chicago Symphony Orchestra as solo Bass Clarinetist. Two years later, Yeh became Assistant Principal Clarinetist of the orchestra, a post in which he continues to serve.
He has performed concertos by Stravinsky, Nielsen, Bernstein and Elliott Carter with the Chicago Symphony and has soloed with other orchestras in locations around the world including at the National Concert Hall in Taipei , Taiwan and in the Great Philharmonic Hall in Saint Petersburg , Russia. Yeh also appears as a guest artist on chamber music series and at music festivals around the world. His many solo and chamber music recordings have earned wide critical acclaim.
Constantly striving to find new types of expression in music, Yeh organized the Chicago Pro Musica in 1979, which won a Grammy award as Best New Classical Artist in 1986.
Recently, Yeh co-founded the innovative quartet "Birds and Phoenix", together with clarinetist Teresa Reilly and traditional Chinese musicians Yang Wei on pipa, and Wang Guowei on erhu. They will make their debut at Western Michigan University in Kalamazoo Michigan, under the auspices of Fontana Chamber Arts, on September 13th, 2006. There, the quartet will premiere works by Lu Pei, Pamela Chen, Bright Sheng and Victoria Bond.