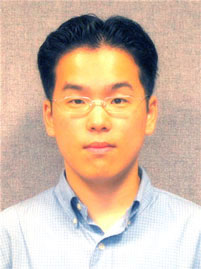 Jeong Kyu Park was born in Seoul in 1981. He was graduated The Korean national University of Arts (KNUA). He is currently studying with prof. Sung ho Hwang, Dr. F. Dliciano, Byung eun Yoo at graduate school of KNUA.
He won the 1st Prize at the Dong-a music competition in 2003.
His music has been performed in 2004 Tongyeong International Music Festival, 2004 Korea Creative Choral Festival by Seoul Chamber Orchestra, Seoul Metropolitan Chorus, Incheon City Chorale, Daejeon Municipal Chorus, U.C. Irvine Choir, World Vision Korea Children's Choir, Quarter-X, Ensemble Geomun, Muse Ensemble, KNUA Ensemble.
"Toad" for violin solo. A piece of eight variations, it is based on a theme derived from a Korean traditional children's song "Du-Gup-Ah, Du-Gup-Ah" (Toad, Toad). It starts with a slow tempo, gradually accelerating to finish with a strong and stormy ending.