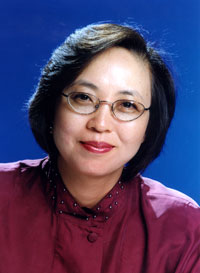 Hi Kyung Kim, a native of Korea, received a B.A. in composition from Seoul National University, and the M.A. and Ph.D. from the University of California, Berkeley. As a recipient of the U.C. Berkeley's George C. Ladd Prix de Paris, she worked at Institut de Rechéreche et Coordination Acoustique/ Musique (IRCAM) and École Normale Supérieure in Paris in 1988-1990. Her composition teachers were Andrew Imbrie, Olly Wilson, Gérard Grisey, and Sung-Jae Lee. Currently she is an associate professor at the University of California, Santa Cruz and artistic director of the Pacific Rim Music Festival.

Her honors/awards include the Walter Hinrichsen Award from the American Academy and Institute of Arts and Letters, Koussevitzky Commission from the Library of Congress, Fromm Music Foundation at Harvard University, Fulbright Scholar award, Commissioning USA grant from Meet the Composer, Tanglewood Music Center, MacDowell Colony, Djerassi Foundation, Cleveland Dodge Foundation, American Music Center, grants from the University of California InterCampus Arts Program, which made possible the Pacific Rim Festival of Contemporary Music at the University of California, Santa Cruz and others.

Her recent pieces were commissioned by and written for Yo-Yo Ma and Chamber Music Society of Minnesota for a special project "Commemorating World War II"; Alexander String Quartet; Aki Takahashi & Rae Imamura; "Rituels" a trilogy pieces for Korean Choreography, Korean and Western ensembles. She just finished a piece for a commission by Koussevitzky Foundation and Chamber Music Society of Minnesota for voice and chamber ensemble in collaboration with the noted Korean poet Ko Un; a solo gayageum piece commissioned by gayageum virtuoso, Aeri Ji. Her current projects include "Requiem" for chamber ensemble & chamber choir commissioned by Fromm Foundation at Harvard University and the Blue Print Festival San Francisco; a commissioned piece by Contemporary Music Ensemble Korea; and a piece for gayageum and chamber ensemble commissioned by Eun-Ah Kwak. Her music is available C.F. Peters Edition and American Composers Edition, Sumundang Edition (in Korea) and her CDs by Capstone, Albany and Centaur Records.

Hi Kyung Kim is a composer of unusual originality, creating music of distinctive, highly artistic quality, music with character.
- Robert Commanday, San Francisco Classical Voice
source: Hi Kyung Kim webiste