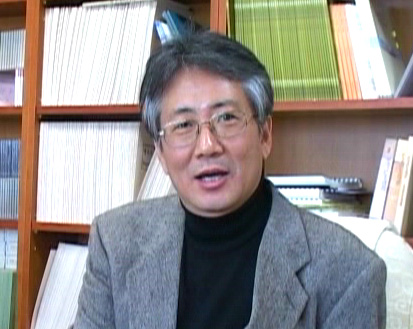 Geon-yong Lee started to compose since age twelve. He played oboe in school band in Seoul Middle School. He studied composition with Dal-Sung Kim at Seoul High School of Music and Arts and with Sung-Jae Lee at Seoul National University. In 1976 he went to Frankfurt am Main, Germany, and studied composition with Heinz Werner Zimmermann at Frankfurter Musik-hochschule. After returning to Korean he taught composition in Hyo-sung Woman's University and Seoul National University. He moved to the Korean National University of Arts in 1993 and was named the president of the university in 2002.
Lee is one of the most serious composers of our time in Korea. It is his dream to share the story of lives through music. He doesn't want to be alienated from his own music by burying himself in contemporary trends, and he does not want to be distanced by others. After returning from Germany he challenged the modernism which dominated Korean musical environment in early 1980s. He founded composer's group called The Third Generation. Since then he has devoted his effort in creating music that represents the unique identity of the third worlds and Korea. In early 1980s he produced mostly chamber works which include his experiments with Korean traditional styles and forms, such as Phrygian Sanjo, Cello Sanjo, Syrum-norum, and He-yoo-Gok. During late 1980s, while the political and social conditions of the country changed for the worst, he composed many vocal pieces with strong messages including Song of Yellow Jesus and Psalms of Wrath. Since early 1990s he has been focusing on the words like 'touching' and 'moving', and beauty of lyricism. His interest narrowed down to the localized beauty rather than the universal. All of his works performed today fall under the category of this inception.
Rhapsody for Violin and Piano
Rhapsody for Violin and Piano was written in 1998 for Nam-Yun Kim, a Korean violinist, who is well known in Korea with his passion and energy. Lee wanted to express image of the passionate violinist in this piece with high density of energy.
Song in the dusk I for clarinet
Song in the dusk I for clarinet was composed in 1997, which is the first of Two Songs of Dusk. Lee tried to express touching sentiment and emotion of Koreans. He is searching for root of all feelings that Korean people have in this music. It remind listeners image of an old Korean scholar searching meaning of life at dusk of the day and life while watching nature and life.
A variation on a Korean Peasant Tune for piano
Lee considered piano a difficult media to express Korean theme because of its stubborn well-tempered temperament and a strong harmonic inclination. Often Korean traditional music did not sound right when played on piano because unique pattern of the Korean melody and rhythmic pattern cannot be expressed. In his earlier piano piece, A Movement for Piano, Lee subjugated piano by treating the instrument as a percussion. But in this Variation, the composer accepted the piano as it is and tried to let the melody of the song live through the work.
Baetaraghi
Baetaraghi was commissioned by KBS (Korean Broadcasting System) in 1992 and based on a folk song "Baetaraghi" originated from Pyongando region. The characteristics of the song were due to its unique structure of scale and peculiar melodic pattern. The composer dismembered and reorganized melodies of the folk song then adjusted those for western instruments. Although this music sounds different from the original song, the main line of melody which is grounded constantly on the interval of fifth and deep vibration ("nonghyon" in Korean) on the upper note placed on fifth remain the same as the original.
Ong
"Ong" is a free variation based on a folk song, "Ong-He-Ya", from Kyung-Sang Province. The interval between "Ong" and "He-Ya" is usually transcribed in perfect fourth or major third. But the composer widened it into perfect fifth and made the lower note of the fifth a sort of fundamental. Then the structural intervals of "Ong" are (from the fundamental) perfect fifth, minor seventh, octave, major ninth, major tenth, augmented 11th and perfect 12th, very similar with natural harmonic series. The composer translated the original song in this melodic material in free manner.
"Ong-He-Ya" was sung in the barley threshing. Because the work is very hard and the movement of threshing is rather fast and mechanically repeating the mood of the folk song is energetic and metric. This mood is still remain in "Ong", though the style of "call and response" of the original song is disregarded because it is a solo piece for cello.
Written by Choon Mee Kim and edited by C. Lucy Park
source: www.ChicagoBulletine.com