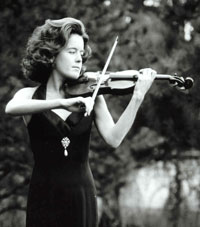 Desiree Ruhstrat The violin artistry of Ms. Ruhstrat has captivated audiences throughout Europe and the Americas. A seasoned performer, Ms. Ruhstrat made her professional debut at the age of twelve with the Milwaukee Symphony Orchestra and at age 16, Ms Ruhstrat performed Tchaikovsky's Violin Concerto in Chicago's Orchestra Hall by invitation of Sir George Solti.
She has worked with many renowned conductors such as Lukas Foss, Eric Kunzel, William Smith and has appeared as soloist throughout the US and abroad. Ms. Ruhstrat performed in Hamburg, Göttingen, Baden-Baden and Stuttgart, with the Philharmonia Da Camera Chamber Orchestra under the direction of Michael Holtzel, and in Berlin where she was featured on a live radio broadcast performing Sibelius's Violin Concerto with the Berlin Radio Symphony under the direction of Ricosaccani. The Berlin Morning Post proclaimed, "Her wonderchild youth years already behind, she now stands with early maturity at the beginning of a likely brilliant career. At the same age once upon a time such violinists as Menuhin, Misha Elman and Schneiderhan excited the public in a similar sensation".
Ms. Ruhstrat has won numerous awards including first prize, as well as a special award for a young performer with extraordinary talent at the National Young Musicians Debut Competition in Los Angeles. She became the youngest prizewinner ever at Switzerland's Tibor Varga International Competition and also won the award for best interpretation of the commissioned contemporary composition. She went on to earn top prizes at the Carl Flesch International Violin Competition, Julius Stulberg International String Competition and the Mozart Festival Violin Competition.
As an active recitalist, she has appeared in Europe as well as the United States including Chicago, New York, Los Angeles, Denver, and at the White House by invitation of President and Nancy Reagan. Ms. Ruhstrat's distinguished career as a chamber musician includes appearances as guest artist of the Chamber Music Series of the Philadelphia Orchestra, the Apollo Chamber Ensemble, the Colorado Chambers Players, Pacifica Quartet, University of Oklahoma, University of Wisconsin and the University of Tennessee.
Festival appearances include the Aspen Music Festival, Peninsula Music Festival, Laurel Festival of the Arts, the Breckenridge Music Festival, Green Lake and Utah Music Festivals where she has also served as faculty.
Ms. Ruhstrat is a member of the Lincoln Trio (www.lincolntrio.com) Ensemble in Residence at the Music Institute of Chicago. She is also a founding member of the Virtuosi Chicago Chamber Orchestra. Ms. Ruhstrat is a graduate of the Curtis Institute of Music and her teachers have included Joseph Gingold, Dorothy Delay, Harold Wippler and Aaron Rosand. This season Ms. Ruhstrat recorded the Stamitz Duo
for Violin and Viola for Centaur Records .
source: Lincoln Trio website