Do-Salpuri
Byungman Son accompanied by Sora Kim, jang-gu, Noel Oh, piri
2012 Sejong Cultural Society Benefit Dinner Event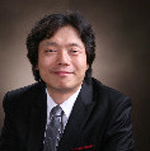 Byungman Son is a designated instructor of Bongsan Talchum, important intqangible cultural property No.17 at the Korean Bongsan mask Dance Drama Preservation Society.
He is a graduate of the Korean National University of Arts and now serves as the president of the Creative Korean Traditional Mask dance Company and executive director of the Machun Korean Traditional dance Preservation Society.
Currently he performs and teaches bongsan talchum and do-salpuri in Korea and abroad.
DO Salp'uri (Spirit-Cleansing Dance in Gyeonggi-Do
Salp'uri is derived from shamanic ceremonies, which is aimed at spiritual cleansing. The word salp'uri means "eliding a murderous evil spirit" and the dance was actually intended to rid of evil spirit. Today, however, salp'uri is almost always performed for artistic purposes and is considered one of Korea's most creative traditional dance forms. With a long white scarf, a white hanbok (traditional Korean dress) and a graceful turn of he (her) white-clad ankle, the dancer bobs and turns, thus creating a thousand fluid lines.
This dance expresses the beauty and sadness of human emotions in both relationships and separations. Numerous instruments including a kayagum, a long twelve-stringed zither, a bamboo oboe, a long bowed zither, and an hourglass drum act as accompaniments. The music starts off slow and plaintive. The pace gradually quickens, thus building emotions, only to come to a quiet and thoughtful end.
information source: Sook Hee Han, Korean Arts Supporting Center, Milwaukee, WI
---