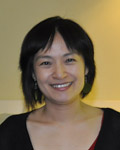 A native of Korea, Eun Young Lee graduated from Ewha Women's University with undergraduate and graduate degrees in Music Theory. After teaching music in universities across Korea, she moved to the United States in 1999, where she did graduate studies with David Noon at the Manhattan School of Music.
Currently Ms. Lee is a PhD candidate at the University of Chicago, where she is a recipient of the Lowell C. Wadmond Award, Doolittle Harrison Fellowship and Humanities Grant. Her current teachers include Shulamit Ran, Marta Ptaszynska, Jan Radzynski, Bernard Rands, Howard Sandroff, and Kotoka Suzuki.
Ms. Lee has won multiple awards for her music, including first prize for the Tsang-Houei Hsu International Music Composition Award; the 2008 Max Di Julio Prize at the Nevada Encounters of New Music (N.E.O.N.) Festival; Honorable Mention in Great Wall International Competition; the first regional award in the SCI/ASCAP student composition commission (2006, 2009, 2010). Additionally, she was a recipient of the MacDowell Colony and Virginia Center for the Creative Arts fellowships, and the Gerald Oshita Memorial Fellowship for the 2010 Djerassi Resident Artist Program.
Her music has been heard through Art of the States, EBU (European Broadcasting Union), and KBS (Korean Broadcasting System) programes, and is featured in the SCI Journal of Music Scores (Vol. 41) as well as CD series (No.23). Prominent ensembles including the New York New Music Ensemble, eighth blackbird, Pacifica String Quartet, ALEA III, North/South Consonance Ensemble, Timetable Percussion, and Geum-Pa Flute Ensemble have performed her music. Her instrumental pieces, multimedia pieces, computer music, and film scores were featured in festivals and concerts in many countries, including June in Buffalo, SCI Conference, SCI National Conference, MGMC, Czech-America Institute in Prague, Korean Music Expo, 60X60 Project Vox Novus, Hawaii International Conference on Arts and Humanities, Gene Siskel Film Center, Pinocoteca do estado de Sao Paulo in Brazil, and Music09 in Switzerland.
In 2008 she participated in the Atlantic Center for the Arts as an Associate Artist-in-Residence to Master Artist Augusta Read Thomas.