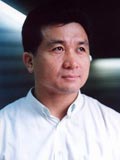 Dong-il Sheen was born in Seoul, Korea. He was described as "a quiet revolutionary who broke the barrier of classical music" (Culture and Me magazine 2006). In a 2002 article in the New Music Composition and Critics journal, Professor Young-Han Heo of the Korean National University of Arts wrote, "Dong-il Sheen is a composer who filled the huge void in our lives with a new style of creative music. He explored music style that was ignored by other composers and now firmly established his own style."
Mr. Sheen has been active in writing music in many different styles, including western European music, traditional Korean music, children's music, film soundtracks, and musicals. He graduated Seoul National University and received his Master's degree at the New York University Graduate School of Music. He collaborated with pianist Jung Hee Han in the album Blue Bicycle, which later received a critical acclaim. He started the new style music movement "Han-ma-dang" and "Music Composers-ma-dang."
In 2002, Mr. Sheen collaborated with writer-illustrator Jae-soo Liu in the CD-Book Yellow Umbrella, which was named as one of the 10 best illustrated books by the New York Times. Japanese pianist Takako Takahashi made a CD of Mr. Sheen's music in Japan.
He received numerous awards including the Best Young Artists of the Year award from the Korean Ministry of Culture & Tourism in 2003, and the Grand Prize of the Year in composers and conductors categories from the Korean Broadcasting Service (KBS) in 2004.
Mr. Sheen is a board member of the Association of Korean Musicians, President of the Composer's Association (Jahk-gok-ma-dang), and Co-president of the Children's Arts Production. Currently he is a lecturer at the Korean National University of Arts and Seoul National University Graduate School of Music.
---
Longing for the Sun: "Sun, sun, come out of cloud, quickly eat your bowl of rice and kimchi soup, come out naked on a drum and jang-gu beat." This song was sung by children waiting for the sun to rise or while the sun was covered by passing cloud. As the sun emerges they repeat the song in a faster tempo. This piece was composed using the original melody in its original format.