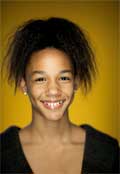 Thirteen-year-old violinist Adé Williams is the first place and best interpretation of Korean music winner of the 2010 Senior and 2009 Junior Divisions of the Sejong Cultural Society's Music Competition. She is currently a semi-finalist of the Sphinx Music Competition. She won second place in the 2008 Society of American Musicians Competition, first place in the 2006 Sigma Alpha Iota String Scholarship Competition, Junior Division, and first place in the 2005 Early Music Category, Walgreen's National Concerto Competition, Junior Open Division.
Adé enjoyed promotion to the quarter finals of the 2010 Fischoff National Chamber Music Competition as first violinist of the Okemo String Quartet, that competition's youngest ever participants. 2010 also brought several exciting solo opportunities, including performing at Millennium Park with her mentor, internationally renowned violinist Rachel Barton Pine, at Skokie Public Library's Young Steinway Concert Series, and at City Hall in Ludlow, Vermont.
Adé's 2004 orchestral debut at the age of six was with the Chicago Sinfonietta as that orchestra's youngest ever performer. She has soloed with the South Side Family Chamber Orchestra (2006), the Highland Park Strings at Ravinia (2007), the Lake Forest Symphony (2009), and the Music Institute of Chicago's Academy Strings (2009 and 2010) where she serves as Concert Mistress. Her 2006 radio debut was on WFMT's Young Artist Showcase.
In 2004, Adé founded the chamber group SugarStrings (www.SugarStrings.com) with her cousins, Mira and Ayanna. The trio is pleased to have been featured on NBC Nightly News with Brian Williams (2010), NBC5 Local News (2010), ABC7's "Someone You Should Know" (2009), the Milwaukee Journal Sentinel (2009), Ebony magazine (2007), and the Chicago Tribune (2006). SugarStrings has had the outstanding privilege of playing for Chicago Symphony Orchestra and Milwaukee Symphony Orchestra events, debuting at Ravinia, playing the intermission for Nadja Salerno Sonnenberg, and opening for Rachelle Ferrell/Kirk Whalum. In addition, SugarStrings has performed at numerous civic and charitable events, including a University of Chicago's Volunteer Reception, Haiti Relief Effort (Omaha), City of Chicago's September 11th and M.A.D.D. annual commemorations, HBCU reception, Living Room Café Soup Kitchen holiday dinner, Chicago Foundation for Women's Annual Luncheon, WNBA Chicago Sky games, Target/Chicago Chamber Musicians' Family Concerts, Chicago Half Marathon, and 100th Anniversary Convention of the Rotary Club International. SugarStrings' radio debut is scheduled for January, 2011 as invited performers on WFMT's "Introductions."
Adé is the Music Institute of Chicago's first William Warfield Scholar and a member of the Academy, where she studies privately with artist faculty Almita Vamos and Marko Dreher. Adé performs on a violin by Jan van Rooyen, 2008, after the "Comte de Villares" Stradivarius, 1720, on generous loan from the Rachel Elizabeth Barton Foundation. She is a charter member of the Junior Division of the Chicago Music Association.
Adé enjoys family time (especially with her little brother Jonathan), ballet, Shakespeare, Geometry, and Chinese.
v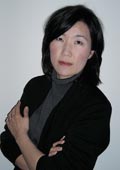 Misook Kim
received her B.A. with the honor of Cum Laude from Seoul National University, Seoul, Korea. After finishing her "New Star Concert" sponsored by the Cho-sun Newspaper, she entered the graduate school at the University of Texas at Austin where she completed her M.M. and D.M.A. degrees in composition and the certificate of piano performance. Reviewer Mike Greenberg, writing in the San Antonio Express-News, called the composer 'a bold and unrepentant modernist'. He also has mentioned 'each of her works presented thus far has impressed with its fearless modernism, its concision and its strong individual profile'.
Kim has performed as a composer as well as a pianist in various concerts of her own works from solo to larger ensemble compositions throughout the States and Korea. Including commissions for the MUSICOPIA Concert, Olmos Ensemble, she has won International Alliance for Women in Music (IAWM) Judith Zaimont Award and the Long Island Arts Council International Composition Competition in 2007. She was a former faculty member at The University of the Incarnate Word and Trinity University in San Antonio, TX. She had also served as a music director at KUMC. In Fall 2006, Kim joined the faculty at the Conservatory of Music at Wheaton College, IL.
website: www.misookkim.org
---
JOY of Ong-He-Ya (third place winner of the 2008 Sejong Music Composition Competition) is based on the Korean traditional folk tune, 'Pori-Tajak Sori', a barley threshing song from Kyung-Sang Province. The thematic elements are derived from the simple interval of a major 2nd, minor/major 3rd and perfect 4th. These two short motivic ideas, 'Ong-He-Ya' and 'Uh-Jul-Shi-Gu', keep repeating and developing as a call and response between violin and piano.
A delightful rhythmic motif personifying Korean traditional folk-tunes continues in different registers and instruments. Throughout the piece this simple and clear musical material interacts with a happy theme, representing the joyful and exciting Korean folk song.