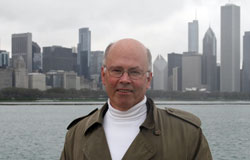 David McCann, Professor Harvard University; Director, Korea Institute
Following is a copy from the Boston Globe Interview article -
The new haiku?
Harvard professor David McCann says America is ready for sijo
"CAMBRIDGE - The class on writing Asian poetry that Professor David McCann teaches at Harvard includes units on Chinese quatrains, Korean sijo, and Japanese haiku, the last of which is so well-known that McCann's students had haiku days in middle school. Why, McCann wondered, couldn't the three-line Korean sijo that he loves enjoy the same widespread recognition as the three-line, 17-syllable haiku?
With that, McCann, a poet and professor of Korean literature, embarked on a mission. He is the founder and chief marketing officer of a campaign to popularize the sijo (pronounced SHEE-jo), a traditional poem of 43 to 45 syllables whose third line contains a twist on the theme developed in the first two.
This spring McCann hosted a sijo festival at Harvard - the first anywhere, he believes, to feature both Korean and English sijo. A sijo contest for middle and high school students which McCann judges attracted 450 entries from two dozen states this year, up from 160 in its 2008 inaugural year. Bo-Leaf Books just published McCann's "Urban Temple: Sijo, Twisted & Straight,'' one of the first anthologies of sijo written in English.
"Students who have a haiku day, when they grow up and see a Japanese novel, they'll be interested,'' McCann says. "There could also be a sijo day. Children might find sijo something they can try, then one day see a Korean novel translated and say, 'I can read it.' ..."
~ Boston Globe .... read full interview