Andrew Ly, 17 years old, is a senior at Buffalo Grove High School. He started learning piano at five years old and currently studying with Brenda Huang. Andrew is also a member of piano trio group in the Midwest Young Artists Institute. Andrew has participated in many piano competitions and received many awards. In March 2009, Andrew was one of the 7 finalists for the Chicago Symphony Orchestra Youth Piano Concerto Competition, which was held once every three years. This provided him with the chance to perform at the Symphony Hall in Chicago, which was an experience he treasures greatly. Other than that, in 2009, besides winning the Sejong Music Competition senior division, he won the ISMAT district audition senior division. He won the Harper College Young Artist Concerto Competition for two consecutive years (2006 and 2007) in both junior and senior division, which gave him two opportunities to perform publicly with the Harper Symphony Orchestra. In 2007, he received the honor of "2007 Outstanding Chinese Young Pianist" award from the Chinese Mid-American Music Organization. In Walgreen Midwest Young Artist Concerto Competition in 2006, Andrew received Honorable Mention in piano senior division open session. Furthermore, Andrew performed a concert for the Young Steinway Concert Series in June 2007. Andrew received certification of piano performance and music theory by passing the highest (12th) level exam in March 2008. His other awards include 2nd place in the State Level Piano Competition of Illinois State Music Teacher Association senior division, 1st place in the Piano Competition of the Society of American Musicians senior division, 1st place in the Awards Competition of the Northwest Teacher Music Association senior division, 1st place in the ISMTA northwest senior division audition, 1st place in the Piano Competition of North Shore Music Teacher Association, 2nd place in the Music Festival in Honor of Confucius, and 2nd place at Roberta Savaler Piano Competition. At Buffalo Grove High School, he was the pianist in the Jazz Band and Pit Orchestra for two years. His favorite sports are golfing and running. He is on his school's Varsity Golf Team, Math Team, and Scholastic Bowl Team. He is a member of National Honor Student Society and likes biology, chemistry, math, and architecture design. He is thinking of pursuing medical field in college and taking music as a minor to continue his piano study.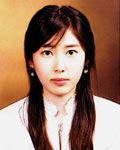 Inhwa Song was born in Kwangju, Korea, in 1986. After showing great interest in music from a young age, she began studying music composition while attending Junghwa Girls' High School in Daegu, Korea. As a student at Junghwa, she won prizes from several local music composition competitions. Currently she is a fourth-year music composition major at the Keimyung University in Daegu, Korea. Recently Ms. Song has presented her music in several music composition recitals in Daegu, Seoul, and Japan.
"Parangsae," (literally "bluebird") for piano solo, is based upon the traditional folk song "Sae-Ya, Sae-Ya," or "Birds, Birds," and divided into two parts.
The first part is a mix of contemporary music and Korean traditional styles. It begins with an F, Bb, C three-tone scale, followed by a Bb, C, D, E, F#, G# six-tone whole tonal scale. The piano accompaniment uses a traditional jajin-mori rhythm and takes its melody from abstracting parts of "Sae-Ya, Sae-Ya." The second part uses a contrasting rhythm against the first by emphasizing emotional and melodic styles and through utilizing different counterpoints.