Hae-ga San Ma-loo-eh Ju-mool-uh-do by Dong-Ji Moon
Ade Williams, violin
Milana Pavchinskaya, piano
(Violin Junior division 1st place & Best Interpretation of Korean Music, 12/6/2009)
Adé Williams Eleven-year-old violinist Adé Williams is the 2008 second place winner of the Sejong Music Competition, the first place winner of the 2006 Sigma Alpha Iota String Scholarship Competition, Junior Division and the 2005 Early Music Category, Walgreen's National Concerto Competition, Junior Open Divisions. Adé's 2004 orchestral debut at the age of six was with the Chicago Sinfonietta as that orchestra's youngest ever performer. In 2006, she performed as soloist with the South Side Family Chamber Orchestra, and in 2007 with the Highland Park Strings at Ravinia. Her 2006 radio debut was on WFMT's Young Artist Showcase. In 2004, Adé founded the chamber group SugarStrings with her cousins Mira and Ayanna. SugarStrings has appeared at numerous venues and civic and charitable events including the City of Chicago's September 11th Annual Commemoration, Chicago Foundation for Women's Annual Luncheon, WNBA Chicago Sky Games, Chicago Chamber Musicians' Family Concerts, Chicago Half Marathon, Martin Luther King, Jr. Peace=2 0Weekend, 100th Anniversary Convention of the Rotary Club International, Gray's Child Development Benefit Concert, and Multiple Sclerosis Annual Christmas Party. Adé enjoys being home schooled, playing with little brother, Jonathan, and playing various sports. Adé is the Music Institute of Chicago's first William Warfield Scholar and a member of the Academy where she studies privately with Almita Vamos and Marko Dreher. She has performed in master classes for concert violinists Tai Murray and Rachel Barton Pine. Adé performs on a 3/4-size violin by John Jusek, on generous loan from the Rachel Elizabeth Barton Foundation.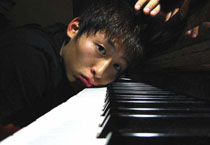 Dong-Ji Moon's musical education was greatly influenced by his mother, a pianist and teacher. He came to America in 1997. He participated in the Montgomery County Honors String Orchestra and has been awarded by The Old York Road Symphony. He is currently studying composition with Dr. Brodhead at Temple University.
"Hae-ga San Ma-loo-eh Ju-mool-uh-do" is based on a poem by So Wol Kim. Melodically, this piece mostly uses a minor-pentatonic scale that is based on key signature. Every pitch in this scale is exactly matched with the poem's narrator's feelings in order to express her pain better. It modulates five times by a major-pentatonic scale (f-g-B flat-c-d) instead of a minor-pentatonic, which represents the composer's hope for a happy ending. Mostly, the pitch is based atonal harmony, but it also uses quintal harmony.
Hae-ga San Ma-loo-eh Ju-mool-uh-do - 해가 산마루에 저물어도
Kim Sowol 김소월

When the Sun comes to an end over the ridge of a mountain
To me, it comes to an end by the reason of you.

When the Sun rises over the ridge of a mountain
To me, the bright morning breaks by the reason of you.

When the ground caves in under my feet or when the sky falls down on my head
To me, all these happen by the reason of you.

Once again, when the time comes,
My never ending love to you will follow you like your shadow.

Oh, my beloved, my dear heart.

Sowol Kim (1902-34) is one of Korea's most famous poets. His most significant achievement was the flexibility and versatility he achieved in the use of the Korean language. In this poem, he presented the sorrow of a woman who was left by her husband as she grieves and yearns for him, indicating the East Asian tradition of female inferiority.