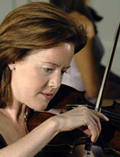 Violinist Desirée Ruhstrat made her professional debut at the age of twelve with Lukas Foss and the Milwaukee Symphony Orchestra. At 16, she was invited by Sir George Solti to perform Tchaikovsky's Violin Concerto in Chicago's Orchestra Hall. The Berlin Taggespiegel has written of her artistry, "…she played with such an intensive fire and sleepwalking assuredness that she was stormily celebrated by the audience."
Ms. Ruhstrat has appeared as a soloist with orchestras throughout the world, including the Berlin Radio Symphony, Gottingen Symphony, Philharmonia Da Camera, Orchestra Symphonica Auguescalientes, Colorado Symphony, Oregon Symphony, Concerto Soloists Of Philadelphia, Chicago Civic Orchestra, Debut Orchestra of Los Angeles, Concord Chamber Orchestra, Concertante Di Chicago and National Repertory Orchestra, and worked with such conductors as Eric Kunzel, William Smith and Max Rudolph, among others.
An active recitalist nationally and abroad, she has performed in Chicago, New York, Los Angeles, Denver, and at the White House by invitation of President and Nancy Reagan. She has appeared as a guest artist of the Chamber Music Series of the Philadelphia Orchestra, with the Apollo Chamber Ensemble, the Colorado Chambers Players and the Pacifica Quartet, to name a few. Festival credits include the Aspen Music Festival, Peninsula Music Festival, Laurel Festival of the Arts, the Breckenridge Music Festival and the Green Lake, University Of Wisconsin, and Utah Music Festivals where she has also served on the faculty.
Ms. Ruhstrat is a graduate of the Curtis Institute of Music. Her teachers include Joseph Gingold, Harold Wippler and Aaron Rosand. This season Ms. Ruhstrat recorded the Stamitz Duo for Violin and Viola for Centaur Records and the Ravel Duo for Violin and Cello for Albany Records.
A member of the Lincoln Trio, ensemble-in-residence at Music Institute of Chicago, Ms. Ruhstrat is also a member of the MIC faculty.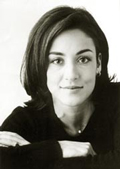 "A pianist of exceptionally finished technique and purity of musical impulse." (Boston Globe) Marta Aznavoorian has performed nationally and abroad. A Chicago native, she has performed in her hometown's most prestigious venues, and has appeared as a soloist with the Chicago Symphony Orchestra, Sydney Symphony Orchestra, New World Symphony, Aspen Concert Orchestra, San Angelo Symphony and San Diego Symphony, working with such renowned conductors as the late Sir George Solti, Lukas Foss, Michael Tilson Thomas and Henry Mazer, to name a few. Solo recital credits include the Kennedy Center in Washington D.C., Sydney Opera House, Steinway Hall, Weill Hall, Caramoor Festival, Tanglewood Festival, Music in the Loft, Dame Myra Hess Series, and Green Lake music Festival.
Ms. Aznavoorian has collaborated with such artists as the Pacifica Quartet, Julian Rachlin, Robert Chen, Colin Carr, Stefan Milenkovich, and Jennifer Frautschi. She has made a recording of Sonatas for violin and piano by Stravinsky and Ravel under the ARTEC label and is currently working on her next recording with Cedille Records.
Ms. Aznavoorian received her Bachelor of Music degree and Music Performers Certificate from Indiana University, and a Masters of Music degree from New England Conservatory. Past teachers include Lev Vlassenko, Menahem Pressler, Carolyn McCracken, Patricia Zander, Evelyn Brancart, and Emilio del Rosario.
A member of the Lincoln Trio, ensemble-in-residence at the Music Institute of Chicago, Ms. Aznavoorian is also a member of the MIC Faculty.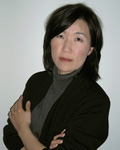 Misook Kim received her B.A. with the honor of Cum Laude from Seoul National University, Seoul, Korea. After finishing her "New Star Concert" sponsored by the Cho-sun Newspaper, she entered the graduate school at the University of Texas at Austin where she completed her M.M. and D.M.A. degrees in composition and the certificate of piano performance.
Reviewer Mike Greenberg, writing in the San Antonio Express-News, called the composer 'a bold and unrepentant modernist'. He also has mentioned 'each of her works presented thus far has impressed with its fearless modernism, its concision and its strong individual profile'. Kim has performed as a composer as well as a pianist in various concerts of her own works from solo to larger ensemble compositions throughout the States and Korea.
Including commissions for the MUSICOPIA Concert, Olmos Ensemble, she has won International Alliance for Women in Music (IAWM) Judith Zaimont Award and the Long Island Arts Council International Composition Competition in 2007. She was a former faculty member at The University of the Incarnate Word and Trinity University in San Antonio, TX. She had also served as a music director at KUMC. In Fall 2006, Kim joined the faculty at the Conservatory of Music at Wheaton College, IL.
"JOY of Ong-He-Ya" (2008) is based on the Korean traditional folk tune, 'Pori-Tajak Sori', barley threshing song from Kyung-Sang Province. The thematic elements are derived from the simple interval of a major 2nd, minor/major 3rd and perfect 4th. These two short motivic ideas, 'Ong-He-Ya' and 'Uh-Jul-Shi-Gu', keep repeating and developing as a call and response between violin and piano.
A delightful rhythmic motif personifying Korean traditional folk-tune in different registers and instruments. Throughout the piece this simple and clear musical material interacts with a happy theme, representing the joyful and exciting Korean folk song.