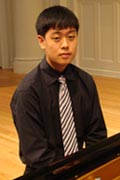 Nathan Noh, sixteen years old, is a junior at Adlai E. Stevenson High School. Nathan has been studying piano and music theory under the guidance of Brenda Huang since he was seven years old. Nathan started out this year as the Alternate Finalist in the Piano Arts National Biennial Piano Competition and Music Festival where he was the youngest contestant. Other achievements in 2008 include 1st place at the CAMTA Roberta Savler Competition Level D, finalist in the West Suburban High School Concerto Competition, and receiving the highest level certification in ISMTA's Achievement in Music program. In 2007, Nathan received 1st place in the senior division at the Confucius Competition. He was a finalist in both the Intermediate and Senior Divisions of Society of American Musicians Competition that year and was the alternate in the MTNA Junior Competition in 2006. Other honors include 1st place in the North Shore Music Teacher Association Piano Competition, 1st place in the Northwest Student Teacher Music Association Awards Competition, and third place in the Illinois state level ISMTA competition. Nathan performed in the 2007-2008 Young Steinway Concert Series and performed a solo recital at Nichols Hall in Evanston this summer.

Heeyoung Yang (born in 1979, Korea) began her studies in music composition with Eunyoung Kwak at Sunwha Art School in 1991 and earned her Bachelor's Degree from the Yonsei University in Seoul, Korea (Summa Cum Laude). She holds a M.M. in composition from the graduate school of Yonsei University where she studies with Chan Hae Lee and from College-Conservatory of Music, University of Cincinnati where she studied with Joel Hoffman. Her pieces, GAME for four cellos and Soliloquy were performed in Summer Music Festival Music 05 and Music 06 in Cincinnati. She had a solo recital at Cohen Family Studio Theater in 2006. In the same year her pieces were performed in Croatia and France. She is also active in Christian choral music offering various pieces in Churches in Cincinnati area. She is currently working toward her doctoral degree with Joel Hoffman at College-Conservatory of Music, University of Cincinnati.
"Milyang,", for piano solo, is comprised with introduction and five variations and a main theme. It is based on the folk song Milyang Arirang. Instead of using a traditional variation format, "Milyang" uses a free variation format. As it was composed for pre-college students, the variations are simple and basic. The theme expands through a repetitive pattern and develops into a variety of harmonic patterns. Notation utilizes an extra five lines for the melody in order to make it easier to understand. Unlike other variation pieces, this music presents the main theme at the end in an attempt to increase expectation and induce one's imagination as the audience listens to the entire piece from the introduction and its five variations.