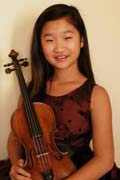 Jennifer Eugena Cha, age 12, attends Crone Middle School in Naperville, IL and is a student of Desirée Ruhstrat at the Music Institute of Chicago. She started playing the violin at the age of 5. As a member of Betty Haag Academy and its Magical Strings of Youth, she performed at various local events and toured Germany and Italy for performances including performing in front of Pope at Vatican. She has won awards and prizes from Chinese Fine Arts Society, Sejong Cultural Society and Walgreen's National Concerto Competition including 1st place in the Junior I at the 2006 Chinese Fine Arts Society and in the Junior Division of 2008 Sejong Music Competition. Jennifer, along with her older sister and friend, is a regular volunteer for the Fine Arts for Healing Program at Edward Hospital in Naperville, IL where her string trio routinely performs for the cancer treating patients.

Misook Kim, received her B.A. with the honor of Cum Laude from Seoul National University, Seoul, Korea. After finishing her "New Star Concert" sponsored by the Cho-sun Newspaper, she entered the graduate school at the University of Texas at Austin where she completed her M.M. and D.M.A. degrees in composition and the certificate of piano performance. Reviewer Mike Greenberg, writing in the San Antonio Express-News, called the composer 'a bold and unrepentant modernist'. He also has mentioned 'each of her works presented thus far has impressed with its fearless modernism, its concision and its strong individual profile'. Kim has performed as a composer as well as a pianist in various concerts of her own works from solo to larger ensemble compositions throughout the States and Korea. Including commissions for the MUSICOPIA Concert, Olmos Ensemble, she has won International Alliance for Women in Music (IAWM) Judith Zaimont Award and the Long Island Arts Council International Composition Competition in 2007. She was a former faculty member at The University of the Incarnate Word and Trinity University in San Antonio, TX. She had also served as a music director at KUMC. In Fall 2006, Kim joined the faculty at the Conservatory of Music at Wheaton College, IL.
"JOY of Ong-He-Ya" (2008) is based on the Korean traditional folk tune, 'Pori-Tajak Sori', barley threshing song from Kyung-Sang Province. The thematic elements are derived from the simple interval of a major 2nd, minor/major 3rd and perfect 4th. These two short motivic ideas, 'Ong-He-Ya' and 'Uh-Jul-Shi-Gu', keeps repeating and developing as a call and response between violin and piano. A delightful rhythmic motif personifying Korean traditional folk-tune in different registers and instruments. Throughout the piece this simple and clear musical material interacts with a happy theme, representing the joyful and exciting Korean folk song.