Ganz Hall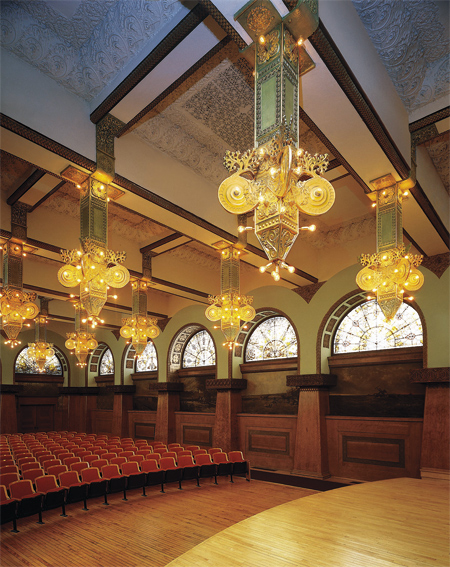 Photo: Greg Murphey, Gregory Murphey Studios, Inc.
Ganz Hall
Roosevelt University
430 S. Michigan Ave., 7th Floor
Chicago (312-341-3780)
Roosevelt University's Auditorium Building is located at 430 South Michigan Avenue.
Ganz Hall is on the seventh floor of the Auditorium Building and
must be accessed through one of the elevators in the main lobby. Google map
Public parking is available at the Grant Park South Garage
one block north of the Auditorium Building off of Michigan Avenue.
About the Ganz Hall ...
Rudolph Ganz Memorial Hall, housed within the Auditorium Building on Roosevelt University's Chicago Campus, is a little-known, yet much-revered space. It is one of Chicago's ultimate examples of artistic and architectural collaboration – featuring the work of French painter, Albert Fleury, Louis Millet and Healy, Louis Sullivan, Dankmar Adler and their then-apprentice Frank Lloyd Wright.