Winners Concert and Award Ceremony
January 14, 2007 (Sunday) 3 PM
Ganz Hall
Roosevelt University
430 S. Michigan Ave., 7th Floor, Chicago, IL
Open to public - Free of charge

Congratulations!
3rd Sejong Music Competition Winners
Photo by Loukas Yunsik Bong, Reporter, Korea Times of Chicago
January 14, 2007
3rd Annual Sejong Music Competition Winners Concert - Video Clip Index

Including the Video Clips of the following 1st and 2nd place winners:
Mindy Park, cello | Sean Yeh, piano | Siwoo Kim, violin | Lauren Kim, piano | Laura Park , violin
Benjamin Lash, cello | Paul Juhn, piano | Emily Hyun, violin | Myung Sook Tu, piano | George Hyun, violin
Hyunjin Jessica Cho
, cello
Hyunjin Cho, 16 year old, a junior at Glenbrook South High School, started playing the cello at 11 with David Cunliffe at the Music Institute of Chicago. She is currently a member of the MIC Academy Program.
Hyunjin has had master classes with renown musicians such as Juilliard violinist, Tai Murray, Avalon String Quartet, the Pacifica Quartet and more.
Recently Hyunjin has been asked to perform in front of one of world's most famous violinist Midori at the MIC's 75th anniversary. Spring of 2006, Hyunjin also performed in the Young Steinway Concert Series.
Her awards include first place in the Junior and Senior division at the Confucius Chinese Fine Arts Competition, concerto winner at the Glenbrook Concerto Competition, and her most recent: first place in the 2006 SAM Senior Division, first place in the 2006 Music Chorale Competition, and Most Outstanding Player in the Senior Division of the 2006 Music at Trinity Competition.
George Hyun
, violin
George Hyun has performed at the Lincoln Center, Symphony Center, the White House, Vatican, and Meyerson Music Hall (Dallas). He has also performed as soloist at the Aspen Music Festival, Summit Music Festival, Music in the Mountains Festival, International Music Festival at Champs sur Marne outside Paris, and at the Music Academy at Schloss Ort (Austria) and in the Steinway Concert Series. He has won awards at the Chinese Fine Arts Society competition, Musichorale competition, and Roosevelt University Competition. He is a member of the Magical Strings of Youth and has traveled on tour with them to South Korea, Austria, Australia, and most recently to Italy where they played for Pope Benedict at the Vatican. He is a student of Betty Haag- Kuhnke. George is an eighth grader and also enjoys reading, snowboarding, swimming , cross country and playing his french horn.
Emily Rose Hyun
, violin
Emily Rose Hyun is a member of the Magical Strings of Youth and has appeared on Chicago Tonite, NPR, and Bill Cosby's television show. She has performed at Symphony Center, Lincoln Center, Meyerson Music Hall, Carnegie Hall, the White House, the Vatican, Chateau at Champs sur Marne (France), Schloss Ort (Austria), and was invited to play as guest soloist at the Palacio de Queluz in Lisbon. She has played in master classes for Vadim Gluzman, Kristof Barati, Siquing Lu, Edvard Wulfson, Vadim Repin, Ruggierio Ricci, Pinchas Zukerman and Gil Shaham. She was concertmistress at the Music in the Mountains Festival and at this year's IMEA Music Festival. She is a recipient of the Stradivarius Society. At the Aspen Music Festival, she studied with Dr. Carole Cowan and Paul Kantor. Emily is a student of Betty Haag Kuhnke. She also enjoys skiing and swimming.
Paul Juhn
, piano
Paul Juhn, age 15, attends Vernon Hills High School. He began playing the piano when he was four years old. He currently studies piano with Emilio del Rosario and cello with Blake Brasch at the Music Institute of Chicago. His former piano teacher was Dr. Soo Lee at the Music Institute of Chicago. He won prizes at many competitions including CAMTA, the North Shore Music Teachers Association, the Illinois Music Teacher's Association, and the Granquist Music competition. He has placed first in the Primary, Junior, Intermediate, and Senior division of the Society of American Music competition and was the alternate in the MTNA Junior competition in 2004. In 1998, he was the youngest winner in the piano division of the Midwest Young Artists Concerto competition and an overall win at the 2003 Walgreens Concerto competition. Also, Paul has won first place in Sejong Music competition in 2005 and finalist in the CSO Auditions. He has given many public performances, including the Young Steinway Series at the Skokie Public Library. As one of the winners in the Steinway Society's "Chicago's Most Promising Student Pianist" competition, he performed on WNIB radio. Just recently, he has given a concert at the Gala Celebration for the Music Institute of Chicago. Finally, in this past August, Paul performed in the "East meets west", Music with Korean themes.
Lauren Kim
, piano
Lauren Kim, age 11, is a sixth grade student at the Latin School of Chicago. She started playing piano at the age of 4 1/2 years old with Emilio Del Rosario.
Lauren has won many awards for her piano playing including NSMTA competition, Society of American Musicians primary and junior divisions, and recently won the 2006 Music Festival in Honor of Confucius. She also plays the cello and trombone in her school band.
Siwoo Kim
, violin
Siwoo Kim, 17, is a native of South Korea. He began his musical studies at the age of 2-and-a-half, taking lessons from his mother. Kim's first major public performance was when at the age of nine, he was a guest performer for The Ohio State University's "Salute to Scholars" program. At the age of 10, Siwoo became a student of Roland and Almita Vamos at the Music Institute of Chicago, and made his first solo debut with orchestra. Since then, highlights of his career include his first solo recital, a broadcasted performance in the 22nd annual Young Steinway Concert Series, being featured as soloist for the gala concert of the Westerville Symphony Orchestra, and numerous performances with the Columbus Symphony Orchestra. Siwoo has won the junior and senior divisions of the Columbus Symphony Orchestra's Young Musicians Competition. He was a finalist in the Kingsville International Competition, and semi-finalist in the Stulberg and the Johansen International Competitions. Kim is also the recipient of a scholarship from the National Federation of Music Clubs.
Yu-eun Kim
, piano
Yu-eun Kim, 17 years of age, began her piano studies at the age of six, in Gwangju, Korea. In 2006, she moved to Chicago, where she now studies under Theodore Edel. She has won numerous awards, including 1st, 2nd and 3rd place in the Kwangju Ilbo music competition and second place in the music competition of the Music Association of Jeonnam, Korea. She is currently a junior at Amundsen High School. When she is not pursuing piano, she enjoys photography and exploring the ¡°Windy City.¡± Recently, she began private violin studies at North Park University. In her future, Yu-eun hopes to pursue a degree in piano performance and pedagogy. She thanks the Sejong Society for providing her with her first opportunity to perform in the United States.
Benjamin Lash
, cello
Benjamin Lash is 15 years old and is a sophomore at Evanston Township High School. He has studied cello since he was six years old and is a student of Tanya Carey at the DePaul University Community Music Division. Ben's first place awards include the Society of American Musicians, Music Teachers National Association State and Regional Junior String Divisions, the North Suburban Symphony, and the Oak Park and River Forest Symphony competitions. He has received honors in the Chicago Symphony Youth Auditions and the Stulberg International Competition. Ben has performed on From the Top, the Skokie Library Young Steinway Series, and on the WFTM "Introductions" series. In 2007, he will perform the Shostakovich Concerto with the Chicago Youth Symphony and the Hindemith Concerto with the Kishwaukee Symphony. Ben is a member of the Evanston Township High School Symphony and the Chicago Youth Symphony. Ben's other interests include baseball and politics.
Jonathan Lyu
, piano
Jonathan Lyu, 12 years old, has been playing the piano for nearly three years. As a student of Dr. Sung Hoon Mo, he has performed many concerts at the Music Institute of Chicago and has recently won third place at the Sejong Society Competition. He is a sixth grader at Daniel Wright Junior High School. Besides the piano, he also plays the cello in the school orchestra and the church ensemble. He likes to play baseball, soccer, read, draw comics, and mostly play video games. He is thinking about becoming a robotic engineer in the future.
Laura Park
, violin
Laura Park, age 12, of Palatine, IL., is a seventh grader at Plum Grove Junior High School. She has studied the violin for seven years with Injoo Choi Mo. Laura currently studies at the Music Institute of Chicago Academy and Orchestra Program and is an active chamber musician. Laura has been a consistent prize winner, most recently winning the 2006 Confucius Competition and the Harper College Young Artists Competition. She will be performing with the Harper College Symphony Orchestra in February 2007. As the winner of the junior division in the 2005 Walgreen's National Concerto Competition, she has performed the Mendelssohn Violin Concerto with the Midwest Young Artists Concert Orchestra in 2006. Laura has also been featured on the ABC7Chicago News and the WFMT 98.7 Radio Network in 2006. Laura will be performing in the Young Steinway Concert Series on April 1, 2007. In her free time, Laura enjoys reading and singing.
Mindy Park
, cello
Mindy Park, age 16, a junior of Fremd High School, has studied the cello since the age of seven. As a winner of competitions, her awards include the Nancy Fuqua Memorial Young Artists Competition in 2005, the Society of American Musicians, and the String Division and Overall Winner of the Walgreen's National Concerto Competition in 2003 and 2006. In 2005, Mindy performed with the Waukegan Symphony Orchestra and in 2006, she performed with the Midwest Young Artists Symphony Orchestra. As an avid chamber musician, her chamber group was selected to perform on the Young Steinway Concert Series and advanced to the semi-finals in the Fischoff Chamber Music Competition in 2006. In December 2006, she was selected to participate in the New York String Orchestra Seminar Schneider Concerts, which led to performances at Carnegie Hall. She currently attends the Music Institute of Chicago Academy and Orchestra Program. Mindy's performances have been featured on WFMT's 98.7's Introductions and the ABC7 Chicago News. Mindy has attended the Meadowmount School of Music in New York for two summers. Mindy is a student of Hans Jorgen Jensen of Northwestern University.
Ashley Sachay
, violin
Ashley Sachay, a senior in high school, has played the violin for 13 years. She has studied with Ann Monztka-Smelser, Shmuel Ashkenasi and currently studies with Desriee Ruhstrat. Ashley is a member of the Chicago Youth Symphony Orchestra and the Chicago Youth Symphony's Encore Chamber Orchestra. She is also a member of the Music Institute of Chicago's Academy program, as well as the Northern Illinois University Community School of the Arts Sinfonia, where she is concertmaster. Ashley is homeschooled and enjoys singing, writing and traveling. She hopes to attend the Peabody Conservatory of Music this fall.
Stella Myungsook Tu
, piano
Stella Myungsook Tu is 7th grade in Wood Oak Jr. High School in Northbrook. She has been winning in North Shore Piano Competition, Granquist Geneva Competition, CAMTA, Confucius since age 8. She had master class with Mary Sauer in 2006 and concert with Ellen Masaki in Hawaii. She was invited to Carnegie Hall as winner of New Praise Society Piano Competition in June of 2006. She was awarded as 2006 National winner of State Fish Art Contest and State Flower Art Contest. Also she was a winner of Song-A Literature Contest in 2006.
Sean Yeh
, piano
Sean Yeh studies piano with Mr. Emilio del Rosario at the Music Institute of Chicago. Sean has won many awards in piano competitions including the Music Festival in Honor of Confucius Competition, the Steinway Society Competition, and the Society of American Musicians. Sean is also the division winner of the 2006 MTNA Baldwin Piano Competition. Sean was invited to perform at the 10th World Piano Pedagogy Conference in Anaheim, California, and has performed with pianist Alpin Hong at the MIC's 75th Anniversary Gala honoring violinist Midori.
Sean also plays viola/piano with the BAM Quartet. The BAM String Quartet won the bronze medal at the 2005 Fischoff National Chamber Music Competition and has performed on the From the Top radio show, WFMT, and at Skokie Public Library, Music in the Loft and NEIU's Mostly Music Concert Series. Sean is a sophomore at Libertyville High School and enjoys math and computer programming.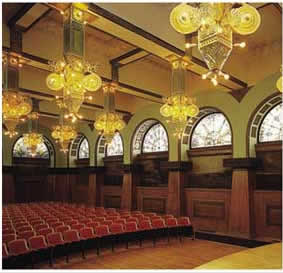 Ganz Hall
Roosevelt University
430 S. Michigan Ave., 7th Floor
Chicago (312-341-3780)
Roosevelt University's Auditorium Building is located at 430 South Michigan Avenue.
Ganz Hall is on the seventh floor of the Auditorium Building and
must be accessed through one of the elevators in the main lobby. Google map Public parking is available at the Grant Park South Garage
one block north of the Auditorium Building off of Michigan Avenue.About the Ganz Hall ...Rudolph Ganz Memorial Hall, housed within the Auditorium Building on Roosevelt University's Chicago Campus, is a little-known, yet much-revered space. It is one of Chicago's ultimate examples of artistic and architectural collaboration – featuring the work of French painter, Albert Fleury, Louis Millet and Healy, Louis Sullivan, Dankmar Adler and their then-apprentice Frank Lloyd Wright. ... read more about the Ganz Hall
WINNERS
Click here for the 2006 - 3rd Annual Sejong Music Competition Winners' List
PAST YEARS' WINNERS and JUDGES / WINNERS CONCERTS
Winners and Judges:
Past year's winners and judges (2005).
Past year's winners and judges (2004).
Past Years' Winners Concerts:
Jan 15, 2006 Winners Concert Program Book
Video Clips from the Winners Concert


Jan 15, 2005 Winners Concert Program Book
Video Clips from the Winners Concert

Updated: April 18, 2007